Febuary 28, 2005
What follows is another great article by Mike Seely written for ESPN.com.  For more articles and biographical data on Prince Joe Henry, visit his profile page.
Posted Thursday, February 24, 2005
Updated: February 28, 11:17 AM ET
The Pauper Prince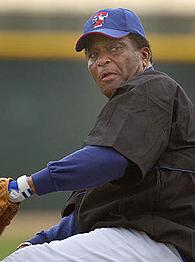 The Associated Press
Before Charley Pride broke country music's color barrier, he was a star pitcher and outfielder in the Negro Leagues.
By Mike Seely
Special to ESPN.com
http://sports.espn.go.com/mlb/news/story?id=1999290

Charley Pride is the Jackie Robinson of country music, having long ago obliterated Nashville's good ol' boy barricades through sheer force of will and the voice of a dark angel. But it turns out music superstardom was merely Pride's safety valve.
"I didn't intend to be in the hall of fame for singing," says Pride, who still performs regularly at venues nationwide. "My thing was baseball: I wanted to be the next Babe Ruth."
Throughout six seasons with the Negro League's Memphis Red Sox in the mid-'50s, Pride, an outfielder and pitcher, resembled both rugged Ruth the slugger and young Babe the hurler, baffling hitters with a three-pitch arsenal that included a fastball in the low 90's.
"I remember leaving New Orleans Saturday morning for a Sunday doubleheader in Indianapolis," recounts Pride.
"I was getting paid $100 per month and two dollars a day eatin' money. I drove the first shift on the bus until after midnight, went back and slept, and then finished off the driving," he says. "I stopped at a convenience store and got some Saltines and Pepsi, and that was my meal. I then went out and beat the Indianapolis Clowns 3-2 (as the starting pitcher) and then played outfield in the second game and hit a three-run homer."
Such exploits should have put Pride on a collision course with his big league dream. But while Jackie Robinson broke the color barrier in 1947, it is rarely noted that three teams -- the Philadelphia Phillies, Detroit Tigers and Boston Red Sox -- had yet to sign a black player by the time Robinson retired in 1956.
"Segregation and the color barrier didn't turn over at 12 o'clock midnight on April 15, 1947," says Negro League historian Larry Lester. "It was a gradual transition. It took a couple decades to balance out in the minor league and major league levels."
And so Charley Pride never got his shot, the victim of imperfect timing and a recurrent bum shoulder. Enter Plan B, which saw Pride tackle the similarly stratified world of country music, achieving the sort of lofty success that eluded him on the diamond.
"Reporters used to ask me, 'How does it feel to be the first colored country singer?'" says Pride. "Then it was, 'How does it feel to be the first Negro country singer?' Then, 'How does it feel to be the first black country singer?'
"Now they ask me, 'How does it feel to be the first African-American country singer?'" continues Pride. "And I tell them, 'About the same as it did when I was colored.'"
Joe Henry missed being Pride's teammate in Memphis by about a year, having moved on to play integrated baseball in Mississippi after the 1952 season. A dexterous, all-star second baseman in the Negro Leagues, Henry was knocked out of the game, seemingly for good, by knee and arm injuries.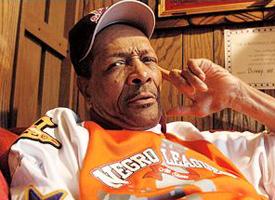 Jennifer Silverberg / Special to ESPN.com
Aced out of playing in the major leagues, then denied inclusion in baseball's assistance program, Joe Henry can't afford to live a princely existence.
But Henry resurfaced in 1955 as a third baseman with the storied Indianapolis Clowns, the team with which a young slugger named Henry Aaron cut his teeth. Hobbled but still moderately effective as a player, Henry re-emerged as a flamboyant court jester, earning the nickname "Prince Joe" for his brash antics on the field.
"I was doing in 1955 what Reggie Jackson would come up with years later: hittin' a home run and watchin' it go out," says the 74-year-old Henry. "I'd slap the catcher's hands, slap the umpire's hands and then run around the bases."
Henry's playing days ended with Detroit's Negro League franchise in 1958, and he eventually moved into a "luxurious mobile home" on 7th Street in his native Brooklyn, Ill. The 14-by-65-foot trailer, where Henry still lives, ain't so luxurious anymore. Nor is Brooklyn, a mostly black, economically ravaged Southwestern Illinois community whose sole economic engine is a handful of strip clubs at the western edge of town.
Henry, who suffers from diabetes and rheumatoid arthritis, passes the better part of his days on a ripped maroon couch in his living room, surrounded by newspaper clippings and mementos from his athletic past. He lives on a fixed income of $16,839 per year, thanks to Social Security and a small pension from his post-baseball years as a union shop steward.
Neither Pride nor Henry was among a group of 69 ex-Negro Leaguers whom Major League Baseball began paying annual pensions of $10,000 in 1997. To qualify, these players had to have played in parts of four seasons, with at least one coming before Robinson broke the color barrier in 1947. Negro Leaguers whose careers began after 1947 were excluded, the rationale being that they arrived at a time when players of all races were welcome in Major League Baseball.
"Had those guys been good enough, they would have played (in the big leagues)," opines 93-year-old Buck O'Neil, a former teammate of Jackie Robinson and Satchel Paige with the Kansas City Monarchs whose Negro League career spanned three decades. "We didn't play because they wouldn't let us."
Others, like Lester, take a more nuanced stance, reasoning that the post-Robinson playing field in the '50s was far from level for players like Henry and Pride. Such a sympathetic perspective prevailed upon Major League Baseball commissioner Bud Selig this past spring, when it was announced that Major League Baseball -- in conjunction with its charitable arm, the Baseball Assistance Team (BAT) -- would distribute approximately $1 million in quasi-pension payments to 27 former Negro League players who had been excluded from the original group but played portions of four or more seasons before 1958. They'd get $40,000 each, paid over a four-year period.
Special to ESPN.com
Prince Joe Henry fancied himself the Reggie Jackson of the Negro Leagues, but couldn't stir interest from major league teams during the early days of integration.
Pride is on this list, which has since been expanded to include five more players. But Prince Joe Henry, despite indicating the required service tenure on his BAT application, has not been as fortunate. To wit, in a letter dated July 20, 2004, BAT executive director Jim Martin rejected Henry's application, noting that Henry's expenses (which he estimated at $1,000 per month) did not outstrip his monthly income of $1,403.
"For B.A.T. to provide assistance, a financial need is required on behalf of the applicant," Martin wrote. "In reviewing your application, your income exceeds your expenses."
"He can't afford any expenses," says Lester, who's currently working with the National Baseball Hall of Fame in Cooperstown to develop a definitive history on black baseball. "A lot of ballplayers live like Joe does. I know what shirt they're gonna wear at the next reunion, because they only have one."
Upon being rejected, Henry responded with a five-page written appeal, which was again dismissed by BAT. But this time, Martin's organization cited a different criterion: that Henry's Negro League tenure fell short of the service requirement.
While no one disputes the legitimacy of Henry's first three Negro League seasons in Memphis, his 1955 season in Indianapolis remains a point of contention. University of Delaware historian and author Neil Lanctot and, evidently, Major League Baseball do not consider the barnstorming Clowns to have been part of the official Negro Leagues that season, thus putting Henry one season short of the required tenure.
"My sense is, compared to where we started back in '97 with the broader program and how we've kind of broadened the eligibility with the second program, I've got to believe we're in the 90-plus percentage in terms of whom we've captured," says Jonathan Mariner, Major League Baseball's executive vice president of finance. "If there's a player out there who has approached us who could not substantiate their eligibility through their existing records, we'd be happy to use the [Negro League Baseball] Museum if they've got records to substantiate that."
The Kansas City museum, it turns out, considers the 1955 Clowns to be bona fide.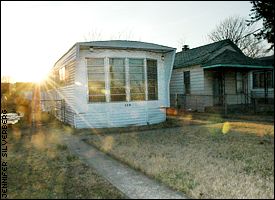 Jennifer Silverberg
Living on modest means, Joe Henry spends his days in a mobile home parked down the street from a strip joint in Brooklyn, Ill.
"Officially, they did not renew their membership in the league in 1955, but were considered an associate team," says Lester, who co-founded the museum in the early '90s. "They were part of the league schedule, and played many, many games against league teams. The Clowns were much like the Kansas City Monarchs in the '30s, who abandoned league play to barnstorm across America. The Negro Leagues were not of a perfect world at the time, and were simply trying to survive the raid of their players by Major Beague Baseball.
"All in all, this is a gray area, and should not keep a player like Prince Joe from receiving a pension."
On this point, Lanctot concurs: "There was a shallower level of talent in the mid-'50s in the Negro Leagues. I'd say anyone who played before '52, give them something."
Such a list would include Don Johnson, who played in the Negro Leagues with the Baltimore Elite Giants, Philadelphia Stars and Detroit Stars during 1947-1952. Like Henry, Johnson does not receive an MLB-BAT pension, despite seemingly boasting the required tenure.
Clifford Layton, who played for the Indianapolis Clowns during 1951-1954, also falls under the purview. Johnson, a utility infielder who was cut by the Reds in spring training in 1947 for reasons he believes were racially motivated, is in similar financial straits as Henry. "All I get is Social Security," he says.
Now 78 and living in Cincinnati, Layton's still in good enough health to work four-hour shifts as an instructor for the Cincinnati Recreation Commission. Johnson coaches varsity girls' basketball at Woodward High School and varsity boys' baseball at Jacobs High School, from which he draws seasonal stipends of $1,000 apiece.
"I need help, too, because all I'm doing is helping kids," says Johnson. "I have to pay a $508 mortgage every month. I just try to carry my life on. Whatever they're doing ain't benefiting me any. It should."
For his part, Pride -- who's using his $833 monthly stipend to assist his brother, Mack, also a Negro League veteran -- takes a more comprehensive stance, asserting that all former Negro League players should receive remunerations from Major League Baseball, length of tenure notwithstanding.
"I really didn't need [the money]; but since they decided to do it, I call it guilt money," says Pride. "I look at it from the situation of Japanese internment. I think everybody that ever played -- whether they played one or two weeks -- ought to get something, as far as I'm concerned."
Former MLB commissioner Fay Vincent agrees, and has put his money where his mouth is: In 2002, Vincent donated a portion of revenues from his book, "The Last Commissioner," to every living former Negro Leaguer, of which some 130 remain today.
"I had Cooperstown give me a list of probably 250 guys, and I gave them $300-$400 apiece," says Vincent. "I got to know a number of them over the years, and I realized they got the worst deal.
"The country gave all blacks a bad shake, but baseball was particularly tough," he added. "Whatever can be done for them, I think we should do."
Mike Seely is a staff writer for the Riverfront Times in St. Louis and a contributor to ESPN.com. He can be reached at mike.seely@riverfronttimes.com.